Bolivia's Disappearing Lake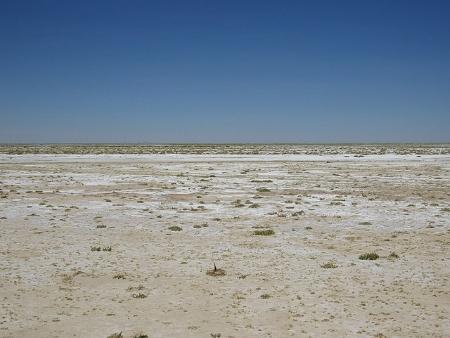 photo by Linda FarthingLake Poopó's dry lakebed. The lake dried up almost completely in December 2015
by Linda Farthing – February 1, 2017
As Lake Poopó vanishes, depleted by water diversions and warming temperatures, it leaves behind an uncertain future for Indigenous Urus
Battered by the blinding sun that reigns supreme in Bolivia's arid high plain, Urus-Muratos villagers from three Lake Poopó communities waited impatiently. In an otherwise soundless sky, a helicopter's approach galvanized the morning crowd into a flurry of activity. Indigenous President Evo Morales, who grew up close to the lake's western edge, stepped out of the chopper onto the remains of the salty lake, which almost completely dried up in late 2015 and has yet to recover. Dozens of Urus and fisherman from the same ethnic group as Morales, the Aymara, rushed to greet him.
Evo Morales came here to inaugurate 14 new houses in the Urus community of Puñaka Tinta Maria that were built by the government's housing agency. Each one is rounded like a traditional Urus home, with two bedrooms, indoor plumbing, and water taps.
The Urus did their traditional Dance of the Fish for the President with huge fish and birds constructed from local lake reeds called tortora, the men dressed in black and white stripped ponchos and rough handspun wool pants, the women in wide skirts and tight blouses The towering puppets displayed an inevitable nod to the increasingly present modern world: all the creatures were given old CDs for eyes.  
None of the national and regional government officials present made any mention of the dusty residue of the lake just half a mile away. Only Urus leader Evarista Flores beseeched the audience to remember that "We who lived in the lake are the ones who most need our lake back." Abandoned boats dotted the lake's edges, reminders that many of those who once depended on the lake have fled to make a living elsewhere.