Pollution levels in Bolivia plummet on nationwide car-free day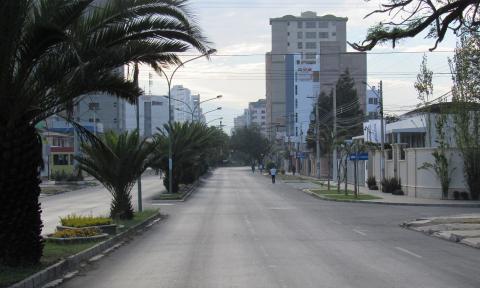 A deserted street in Bolivia. Photograph: Linda Farthing
Country wants to reclaim physical activity in age when young people are focused on computers, says government spokeswoman
Air pollution levels have plunged in cities across Bolivia as the country marked a nationwide car-free day in which all non-emergency vehicles were banned from city streets.
As Bolivia's middle-class population has increased over the past 10 years so has the number of cars clogging city streets. The car-free event started 18 years ago in Cochabamba, one of Latin America's five most polluted cities, and has gradually taken root across the country. By 2011, it had become so popular that Bolivia's legislature declared a yearly "Day of the Pedestrian and Cyclist in Defence of Mother Earth".
"Air pollution drops by 60-70% because 70% of our air contaminants come from vehicles," said Soledad Delgadillo of Cochabamba's municipal government. "The difference in air quality is noticeable. It [pollution] drops to almost zero when normally it can rise as high as 100 parts per cubic metre," said Jorge Martin Villarroel, director of the environmental charity PAAC.
Cochabamba now has three pedestrian days a year, including the national day, while Bolivia's highland city of Potosí recently set up four.